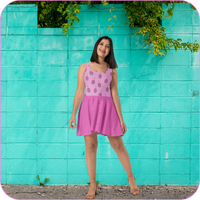 Cute Clothes, Adult Sizes!
It shouldn't be difficult to find clothes you love, no matter your age or body type. But if you're into a cute aesthetic, it can be difficult to find clothes in the style you like that are actually made for grown-ups - even moreso for plus sizes!
These issues are at the heart of the Rhonda World brand. We strive to create cute clothes for all ages, and to provide inclusive sizing.
Shop all dresses ⇢